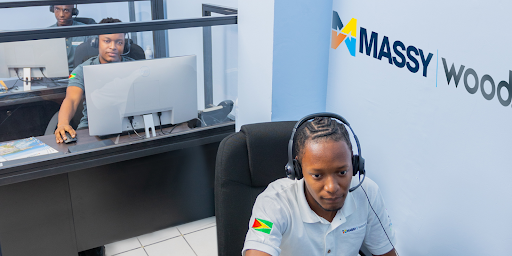 As a leading integrated energy services partner, Massy Wood Group (Guyana) Inc. (Massy Wood) strives to unlock the creativity in our people by equipping them with best-in-class knowledge, systems and processes from around the globe.  We are committed to building local capability and capacity in Guyana and using our passion and expertise to improve lives and livelihoods.
As the Oil and Gas sector grows at a phenomenal pace, providing that much needed impetus for the expansion of the other sectors of the Guyana economy, Massy Wood appreciates the value that competency, across all disciplines of Engineering, brings to this transformation and the sustainability of Guyana's future.  In September 2021, Massy Wood collaborated with the University of Guyana's Faculty of Technology & Engineering in alignment with its Industrial Attachment Programme.  This programme involves the placement of students in a career-related industrial environment, where they are employed on a full-time basis and are expected to develop and hone specific engineering competencies.  
Massy Wood is proud to introduce our three interns – Jarvais Cadogan, Rickford Garrett and Nicholas Gouveia – in the fields of Electrical, Mechanical and Civil Engineering respectively.  We are excited to have these brilliant minds on board for the next six months and to provide them with a dynamic platform to gain rich, practical experiences, receive mentorship from experienced leaders and develop in their respective fields.
Meet Jarvais Cadogan, 27
"As an Electrical Engineering student at the University of Guyana, it has been very exciting to be a part of such a friendly and professional team to get a closer look at how the industry works.  Thus far, during my time here, I've been involved in preparations for a medium scale engineering project for a major client here in Guyana.  Despite the challenges, because much of this is new to me, it has deepened my knowledge and pushed me to higher standards of work ethic.  I have no doubt that the vast amount I have learned here so far will be invaluable in the next stages of my career."
Meet Rickford Garrett, 22
"I am currently pursuing my bachelor's degree in Mechanical Engineering at the University of Guyana.  I received an internship at Massy Wood to work in their Engineering Department and I am very happy to have the opportunity to learn about the planning stage of various projects, both in and out of Guyana.  In the time I've been here, I've been able to gain a unique perspective and benefit from the guidance and support from their team of dynamic and experienced engineers.  The sky's the limit for me and in five years, I see myself working as a Mechanical Engineer at one of the top engineering companies in Guyana, contributing to the development of my country."
Meet Nicholas Gouveia, 21
"I'm currently studying for my Bachelor of Science in Civil with Environmental Engineering.  The Industrial Attachment Programme has given me the opportunity to work as an intern for Massy Wood in their engineering department.  Not only has this been a very rewarding experience both in professional and personal terms, but also an invaluable opportunity to network with some of the most knowledgeable people in the industry.